Radiothon 2017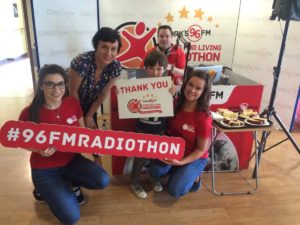 The tenth Cork's 96FM Giving for Living Radiothon took place all over Cork from 24th-26th of May this year and raised a phenomenal €411,574 to support cancer services in Cork, shared between Cancer Services in the Mercy Hospital, Cork University Hospital, Marymount Hospice, Breakthrough Cancer Research and Cork Arc Cancer Support House.
While 96fm played stories about people's personal experiences with cancer, the people of Cork showed their support by organising coffee mornings all over the city and county, holding no uniform days at school, dropping in change boxes and making one of donations to help those dealing with cancer in Cork and ensure they get the care they deserve right on their doorstep.
Some of the headlining events included the 96fm Coffee Morning at Broadcasting House, the Radiothon Quiz Night at The Oliver Plunkett Bar, the Radiothon Big Night Out in Reardens and not forgetting to mention the Heel Appeal – brave men of Cork turned up to UCC in Stilettos, Wedges, Sling Backs, Peep Toes to race each other around the Quad!
Here at CUH, funds raised through Radiothon have purchased vital equipment for our Cancer Units, enhancing the level of care each patient receives and making their journey a little easier. Funds raised this year will go towards extending and refurbishing the Stomatherapy Unit and purchasing vital pieces of equipment that will help to improve the level of patient care delivered at CUH.
96fm Radiothon would not be possible without the loyal support of the people of Cork and it is because of them it grows in success from year to year. Thank you to everyone who got involved and we look forward to another fantastic Radiothon in 2018!