UCC Charity Skydive 2019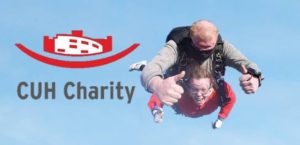 Want to fly through the air at 200km/h while doing good and helping sick children, superhero style? Well Skydive-UCC is organising a sponsored skydive to support CUH Charity, UCC Clubs' official charity for 2018/2019.
The Skydive will take place on Saturday April 6 from 10am-8pm at the Irish Parachute Club, Clonbullogue Airfield, Clonbullogue in Offaly.
Details for the event are available at https://www.facebook.com/events/565896027155957/