B & Q Mahonpoint Bring and Buy books Fundraiser for CUH Children's Unit.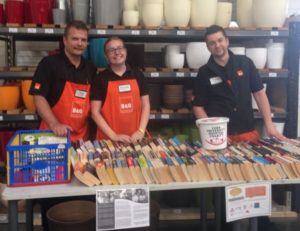 B&Q Mahonpoint, Cork recently selected CUH Children's Unit as their chosen charity for May- July 2017.
It's not just DIY, hardware and homeware that keep the staff of this local Cork store busy. They choose a different charity every few months to fundraise for and have raised over €15,000 already, since last October!
Their fundraising initiatives started when a colleague's son was diagnosed with Leukemia and they decided to raise whatever they could to help with his frequent trips to Dublin for treatment.
They started with a coffee morning for customers and staff and after seeing the positive results decided to continue fundraising as a team and implement a longer-term fundraising project on-site at their Mahon Point outlet.
Simply clearing a section of the store, they asked customers, colleagues and the community of Mahon to bring in second-hand books and created a clever bring and buy a bookshelf, with all donations for books going to their chosen charity. This initiative has been going from strength to strength over the past nine months, and the Mahon point team, under the management of Chris Kiely plan to continue it into the future.
Speaking on behalf of the team, Sandra O'Neill of B&Q said 'I can see that everyone working at B& Q loves taking part and we have had great feedback from customers, who are delighted we have chosen local Cork charities and really enjoy this initiative in our store'.
If you have any second-hand books at home, B&Q Mahonpoint would be very happy to accept them and they can be dropped directly to the store.